Events
The events section is a log of every action that occurs in the system. It is used for historical purposes and for diagnosing errors.
From the Dashboard, click Events.
You will see a list of events sorted by date.
Date Created: The date the event occurred.
Subject Type: What kind of event transpired, such as orders, integrations, or inventory actions.
Verb: A description of what action was taken, including whether the action was a success or failure (error).
Message: A more detailed description of what happened.
Arguments: Technical details about the event, such as ID numbers and feed type.
Action: If the event is an order, a button taking you to the order page will be located here.

You can sort by each column by clicking the up and down arrows by their names. You can also search for events in the search bar at the top left.
To filter by date range, click the Date Range button and select either a preset time period or a custom range.
To filter by specific criteria, click the Filter button and select a default criterion (orders or customers) or create your own criteria by clicking + Create New Filter.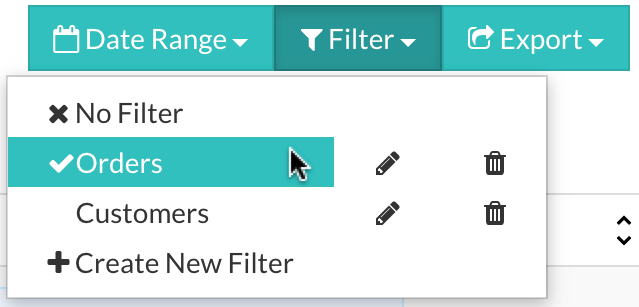 You will then be able to build queries either manually or with the build feature. For more information on how to build queries see the Primary Query section of the Reports article.
To export the events log to a CSV file click Export.